What is a SmartLink URL Shortener?
CityGro SmartLinks has two main purposes. First, SmartLinks are short URLs that can forward to other URLs. This is helpful when you are communicating through a platfrom with limited characters such as SMS Messaging and Twitter. Simply insert the URL you would like to forward to and SmartLinks will generate another URL using the domain name c-g.co. In the end it will look something link c-g.co/12345.
The second purpose of a SmartLink is to track what links are being clicked. In the SmartLinks section of the CityGro Management Portal you can quickly see which links are being clicked and which links aren't. With no limit to the amount of smartlinks you can create, you could easily create SmartLink for everything!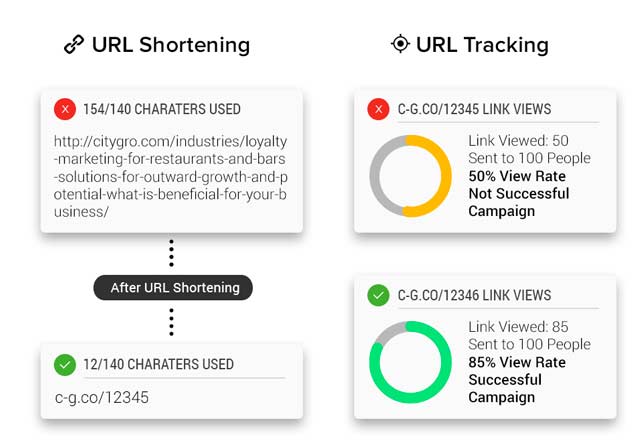 Marketing with SmartLink Short URLs
Marketing with SmartLinks provides a unique ability to trigger followup campaigns based on what has been clicked. Take for example a loyalty marketing strategy with a primary goal to get more people to follow your business on Facebook. A short url is created which allows us to track clicks and is then imbedded into the welcome text that is set to go out to every new clients. It might say something like this:
"Thanks joining rewards and offers at Jimmy Neutrons! Follow us on Facebook to view our secret menu. Click here> c-g.co/jimmy"
Perhaps a follow up messages is scheduled every few days to remind them to do so BUT if they click the link, all follow up messages stop. The SmartLink can stop one campaign and trigger another!
Another example might include sending an email to your network to see what products they are interested in. You could add recipients to a group based on what parts of the email they clicked. If they clicked on a product with a special, they might get a follow up email detailing the special. SmartLinks allows you to do all this and more, simply by following the link.