CityGro Makes it Easy for You to Communicate with Customers
Keeping in touch with customers and prospects is critical for today's businesses. If you want to grow your customer base and strengthen the loyalty of your existing customers, you need to communicate with them on a regular basis. As daunting as this may sound, this process need not be onerous on your business. CityGro can help make sure that does not happen.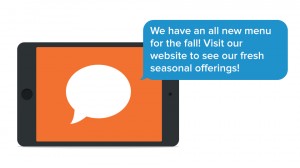 The CityGro system leverages the simplicity and power of the familiar iPad interface with proven marketing techniques to help you automate and personalize your customer communications. We have developed our process with the business owner in mind. We know that you cannot afford to spent countless hours or dollars on marketing.
The CityGro kiosk reduces your time and costs spent while helping you to increase your sales. With CityGro as your trusted partner, you can do the following:
Grow Your Prospect Base
Every customer today was "only" a prospect at one time. To that end, if you want more customers, you need more prospects. One of the best ways to increase your pool of potential customers is through your existing customers.
The CityGro Kiosk lets you easily identify your most loyal customers. From there, you can develop a series of communications targeted at this group that turns them into your cheerleaders on the streets. Automated messages sent to this group's mobile phones can be shared either virtually or via good-old-fashioned word-of-mouth.
"Up-Sell" the Occasional Customer
Some customers may never become your most brand, or company, loyal. But a good percentage of those once-in-a-while customers can easily be nurtured into devout supporters—and frequent purchasers.
Communication is a critical component to making this happen and the CityGro kiosk enables messages to be sent real-time and with individualized offers that drive people to take the action you want them to.
Win the Customer
In order to succeed in the modern marketplace, you cannot give up on a prospect just because he or she did not buy on the first encounter with your business. It is too easy nowadays to compare products and services and more and more consumers do this before making their purchasing decisions.
Automating your outbound reach to warm prospects keeps you in the forefront of their minds while they continue to compare and shop. This gives you a vastly heightened chance of winning the business compared to the company that does nothing.
No matter what segment you are targeting—potential prospects, once-in-a-while customers or highly-loyal customers—an easy way for you to communicate with customers is the way to get more out of them.
The CityGro kiosk is the engine that fuels our system but the marketing philosophies behind that engine really put it to work for you. Better results with less time and money required from you is what we are all about.