The Customer Retention Cycle: A 3-Step Strategy to Retain More Customers
When helping clients build their customer retention strategy, one of the first points we try to make clear is that customer retention takes ongoing refinement. And while that may sound like a cop-out, there is actually a proven formula to building and increasing customer retention. This formula is what we refer to as the Retention Marketing Cycle.
What is The Customer Retention Cycle?
The customer retention cycle is a repeating cycle that, if monitored regularly, will bring your customers back. It will turn prospects into customers, infrequent customers into loyal customers and loyal customer into advocates. This customer retention cycle consists of three components.
Collecting customer data

Managing customer relationships and

Communicating effectively with customers.
Download your free copy of our Text Marketing Best Practices Guide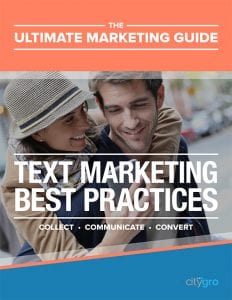 Customer Retention Marketing 101
1. Collect Customer Data
What customer data do I need to collect ? From a marketing standpoint it is important to collect your customers contact data such as phone numbers, email addresses, etc, as well as their behavior. Information such as date last visited, visit frequency, average amount spent per visit, and promotions redeemed is critical information when it comes to direct marketing.
It's pretty safe to say that 99% of all loyalty programs are in place to capture customer data. For example, every time a business asks for your phone number, email, or gives you a store card to swipe, they are actually monitoring your behavior. On an individual level they know what you are doing, and on a global level, they know habits of all of their customers as a whole. Data collection is the first crucial step of the Retention Marketing Cycle. When used correctly it will give you the insights you need to optimize your customer retention marketing strategy.
Tools to collect customer data:
2. Managing Customer Relationships
The second step of the Customer Retention Marketing Cycle is managing customer relationships. This requires you to use the data you've collected to understand more about your customers. These valuable insights can include:
Gaining insights such as how often your customers are coming in
Learning what kind of things they are purchasing
Determining how much each customer is worth
While this is much easier said than done, if you've put the proper tools in place to capture customer data, then we should have the data we need to understand the relationships better.
For example, by simply asking your customer to check in with a phone number each time the visit, you can track the frequency at which each customer comes in, the average time of day each customer comes in, the average day of the week they come in, and perhaps most important to retention, you'll know if that customer has stopped coming in. Once you've collected insights, you can move on to step 3 of the Retention Marketing Cycle, Communication.
Tools to retain customers:
With all of your campaigns in place, you are now ready to COLLECT more data (redemptions, views, opt-outs, etc), MANAGE your customer relationships and COMMUNICATE new campaigns and incentives based on the success of the old ones. It seems complex but after repeating the cycle a few times you will really understand what it takes to drive your customers back.
Want to learn more about customer retention? Create a CityGro Account for free and start bringing customers back!
3. Customer Communication
– Customer communication is the driving force of the Customer Retention Cycle. After all, why gather the data and track relationships if you aren't going to actively use the data to bring customers back? It's also what separates retention marketing from a loyalty program. Retention marketing creates buying habits within our customers by actively putting our product, promotions, and service at the front of our customer's minds. By utilizing the data gathered from step 1 and our insights created during step 2, we can now create relative communication (we call this a campaign) to bring customers back. Here are some ideas.
After learning what time of day our customers typically come in, and knowing that most people follow daily routines (have lunch at a similar time, shop at similar times, etc.), we might trigger updates and promotions to them just before they typically come in. Similarly, if we follow patterns and realize a customer isn't coming in as often as they should, we might trigger some incentives to get them coming back. We suggest starting with smaller incentives such as a free add-on of some sort to see if that hooks them without offering a larger incentive. Using a scheduler, such as building CityGro Campaigns, you can create these automations and then let them run themselves until you have enough data to warrant a change. Which brings us to the most important part of the cycle, review, and repeat!