Loyalty and Retention Marketing Software

The world's best way to bring customers back.



















Why do 1000's of businesses choose CityGro for loyalty?

2-3x More Engagement 
CityGro's loyalty + marketing platform brings customers back 2-3x more than other loyalty solutions thanks to the ease of use mixed with unparalleled marketing automation. 

Unbeatable Price
We understand decisions are based on value, not price. However, if there is a competing service at a lower price, we simply won't be beat. 
CityGro Loyalty customers visit 2-3x more than traditional loyalty customers.

Completely Customizable
Your business is unique, it's what makes you successful. Start with templates based on proven success and modify what works for you. CityGro never shares contacts or data with other businesses. 

"It Just Works!"
It's the one thing we hear time and time again, "it just works." 
PROBLEM: 60% OF CUSTOMERS DON'T RETURN AFTER THE FIRST VISIT.
How much are customers worth? According to Bain and Company, a 5% increase in customer retention can increase a company's profitability by 75%. Gartner says that 80% of your company's future revenue will come from 20% of your existing customers. So what would your business look like if you were to increase the number of customers that come back, even if only by a few percent? #Game-changing. 
How does CityGro bring customers back 2-3x more?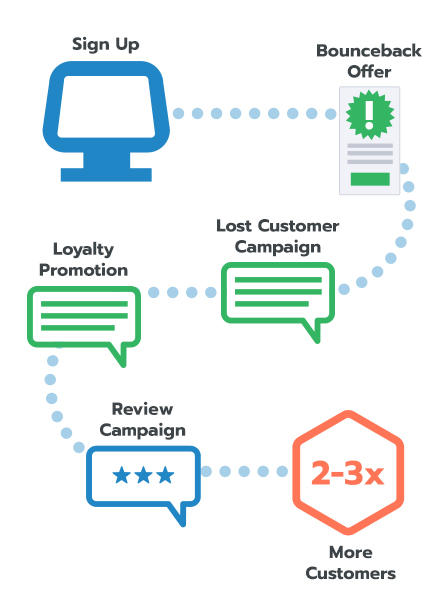 Outreach + Engagement
Effective communication is the secret sauce to customer loyalty. After adding text and email outreach to your loyalty strategy, you'll wonder how you ever got by without it. 

Track Loyal vs Unloyal Customers
CityGro tracks customer behavior so you can easily create campaigns for lost customers, loyal customers and everyone in between. 

Dead Simple Sign-up
Though packed with features, from a user's point of view, CityGro is as simple as a finger and a phone number.

Automated So You Don't Forget
Automations aren't only built for customers, they help you carry out your marketing strategy and ensure you don't miss a beat! 
Don't just reward loyalty, drive it!
Whereas most loyalty programs are designed to reward loyalty, CityGro is designed to drive it! By combining marketing and engagement tools with loyalty, you can push both loyalists and not-so-frequent customers to come back.

Text and Email Campaigns
Bring your customers back with a multi-channel approach to increasing customer loyalty. Customers can receive wither texts, emails, or both!

Lost Customer Campaigns
Recover lost customers by creating automatic incentives that are sent out automatically based on a customer's last visit time. 

Birthdays + Anniversaries
It's no secret that people spend more money on holidays and birthdays, CityGro helps make sure they are spending it with you!

Mobile Offers
Create visually appealing offers that are easily redeemed on a mobile phone. Mobile offers can be sent via text, email or embedded in any site or social post. 

Reward Alerts
More than 50% of rewards go unused because customers forget about them. With CityGro Loyalty, customers don't forget.

Increase Referrals
Send incentives to your most loyal customers who are most likely to give you referrals. 
The Signature "Digital Punch Card"

Customer Facing
Our customer-facing loyalty kiosk helps remind your customers to check-in for loyalty, even when employees forget. 

No Cards or Downloads 
Not only will CityGro's digital punch card save you print cost, but customers love the simplicity of not having to carry around cards. 

Fully Customizable
The only loyalty kiosk that is completely customizable. Change anything from the background images to the pages, fields required and more. See optional kiosk pages

Won't Hold Up the Line!
Allowing customers to check in themselves means that your employees can continue the checkout without having to manually input customer loyalty data. 
Return On Investment (ROI)
For most businesses, bringing just a few customers back each month would more than pay for the CityGro Loyalty system. Fortunately for us, we tend to bring back hundreds. Here are a few ways we help you track your ROI. 

Track Conversions
Measure the success of your loyalty campaigns with "conversions," the number of customers who come back within 7 days of receiving a message. 

Reduce Fraud
An estimated 10% of paper loyalty cards are found to be fraudulent. CityGro overcomes this by tracking every action in a secured event log. 

Test Campaigns
Perfect your loyalty strategy by testing campaigns and comparing them against each other. Build off the campaigns that work and drop the ones that don't.  

No Printing Cost!
Many businesses report saving more than the monthly cost, all in the cost of print!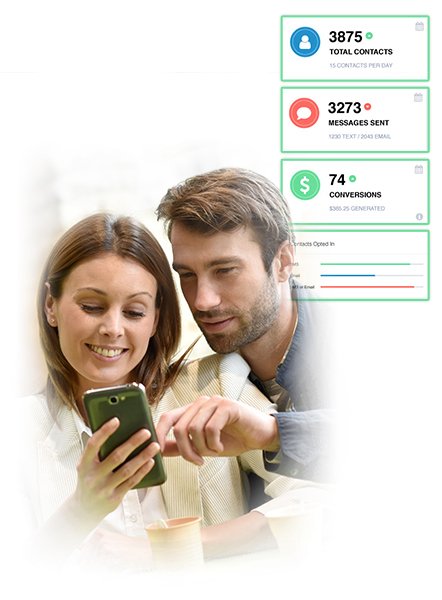 Integrations and API

Integrate with CityGro Tools
CityGro Loyalty comes automatically integrated with other CityGro tools such as messaging and waivers. This simplifies the experience for your customers allowing them to do things like redeem offers on the CityGro kiosk, track loyalty while signing waivers, etc. 

API Integrations
The CityGro API allows you to integrate with third parties like shopping carts, 3rd party CRM's, point-of-sale systems and more. Once again, the goal is to simplify the experience for your employees and for end users by pushing data to and from the CityGro Loyalty platform.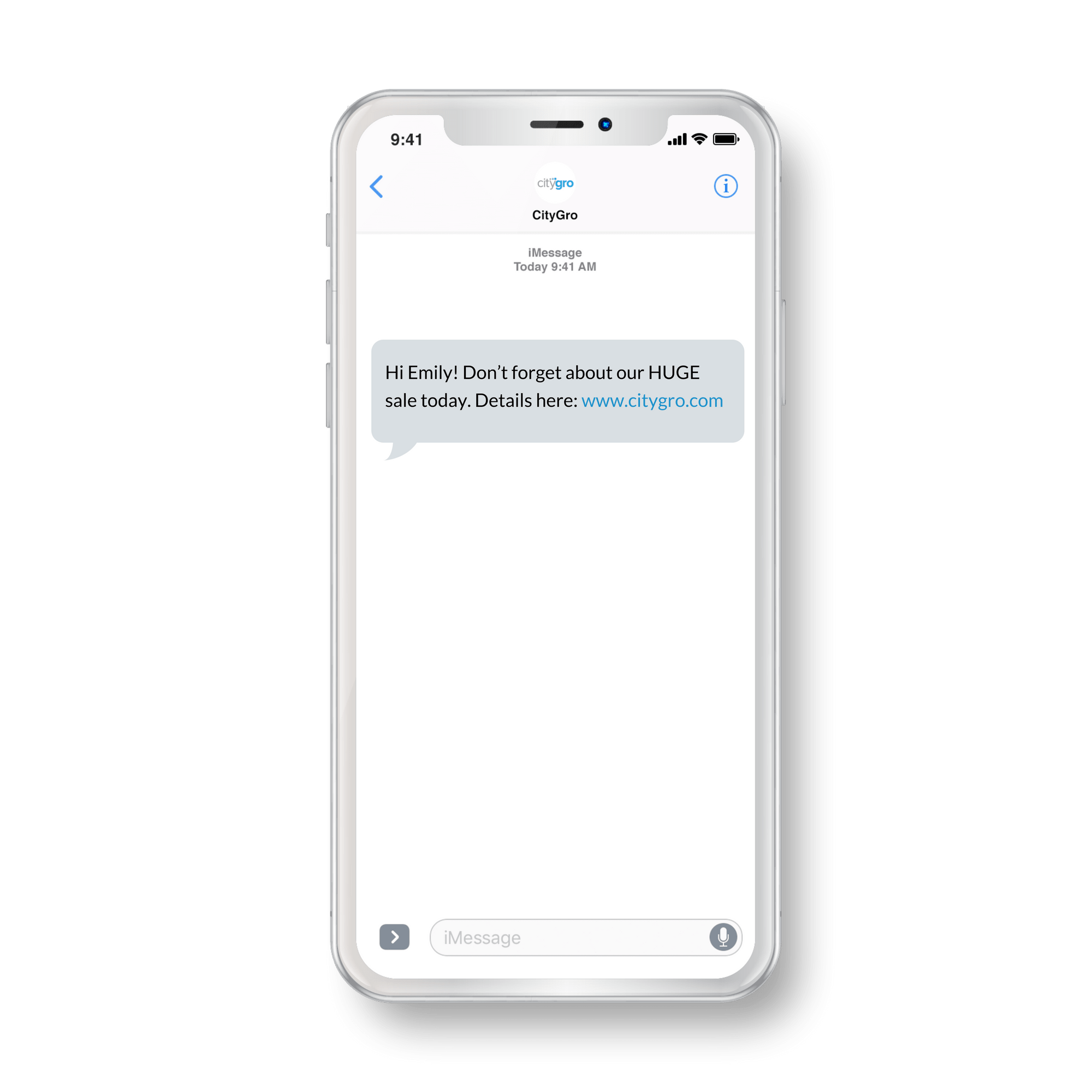 Peace of mind

Opt-in + opt-out management
This is supporting content below the header and should have some good information that is useful and to the point.

FCC and CTIA compliant
This is supporting content below the header and should have some good information that is useful and to the point.
Want more?

Multiple Punch Cards
CityGro Loyalty supports multiple punch cards for businesses with completely different lines of products. An example might be a cafe/bookstore that wants to reward book purchases separate from coffee. 

Data Collection Forms
Collect additional customer data on your website or from a mobile phone with CityGro forms. Forms are often used to collect more data after customers leave so as not to hold up a line. 

Desktop Application
Get alerts right on your desktop when customers check-in for loyalty. This helps speed up the checkout process and allows employees to modify contact info, rewards and loyalty points from the register.

Offline Mode
Offline mode allows the CityGro kiosk to collect customer data and points when the internet is not available. Stored data automatically syncs back up when the service is reconnected. 

Online Signup
Allow customers to join your loyalty program from your website or on different social media platforms by adding a link or form where needed. 

Customer Portal
The customer portal allows customers to sign in and check loyalty points and any rewards available. It can be linked from your website or sent to customers after they first check-in. 

Expiration Notices
Increase the use of offers and rewards by 2-3x by sending "last chance" type messages when offers are about to expire. 

Customer Reviews
Drive reviews by asking customers how their experience was. When customers respond positively, automatically direct them to review your business on Google, Yelp, Facebook, etc. 

Hidden Offers
Gamify the reward experience with hidden offers such as half-way rewards, birthday rewards, offers for special occasions and more.
"Since we started using CityGro, we have gotten rid of the cost of punch cards, employees don't have to insert the phone numbers and emails from business cards we used to collect, and now that we have thousands of people in our network, we don't have to reach people through third-party advertising. It costs us a couple cents to contact a customer, and even if it takes 10 messages to bring them back, it is extremely profitable."

Owner, Farr's Fresh

"CityGro helps us bring customers back by allowing us to reward and engage our customers on a programmatic basis."

CEO, sweetFrog

"With our business having several different locations and seasonal schedules, it was hugely important for us to be able to customize and automate our text marketing system. CityGro worked with us to integrate directly into our POS, which gives us access to how often our customers visit and allows us to send them offers accordingly."

Hokulia

"From webforms to text keywords, CityGro's solutions have helped us integrate digital marketing across our various locations. The CityGro App for iPad is incredibly user-friendly for both our more senior customers and small children. The platform allows us to personalize messages to different types of customers and automate them based on visit frequency."

Fat Cats