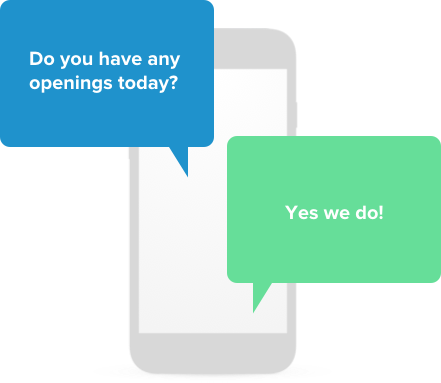 Communicate with customers the way customers communicate with everyone else.
TextChat is free up to 50 chats per month. 
"Customers prefer to send a text because it's less-time consuming and more convenient"

-Emarketer.com

The TextChat Widget
Chats start online, but continue offline.
The TextChat Widget allows website visitors to chat in from a desktop (or mobile phone) and then transfers the chat to their cell phone. After chatting in, they can stay and browse or leave their computer — the conversation still goes on even after the customer leaves your site!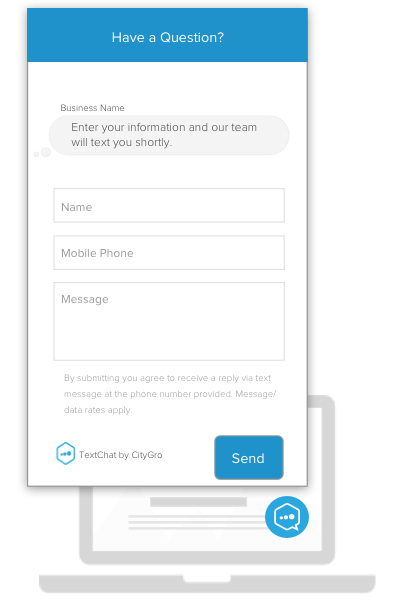 Textable Phone Number
Invite customers to text you anywhere.
Every TextChat account comes with a text-enabled phone number that your customers can text in to. This number can also forward to your business line for customers who prefer to call. Incoming texts show up in your TextChat Inbox as well as on the TextChat App.

TextChat App
Reply to customers on the go
The TextChat app gives you freedom to go about your day, knowing that you won't miss out on valuable conversations when you leave your computer behind to, you know, run a business.
The TextChat
Management Portal
Efficiently manage all of your conversations
Keep a pulse on your customer communication within the TextChat Management Portal. Reply to questions, snooze chats for later follow-up and track response and performance metrics from the Dashboard. Once the chat is complete, invite your customers to sign up for deals and announcements. Most businesses find that up to 80% of their customers will opt in.
Wait, there's more…

Auto-Replies
Set up Auto-Replies to automate responses to frequently asked questions, or provide a predetermined response based on the time of day or day of the week that the customer writes in.

Text Marketing
Set up simple automations to ask customers if they'd like to receive updates and promotions from your business. Those who do will be automatically placed on your text marketing list.

Snooze
Want to clean out the inbox but worried about following up with customers? The TextChat "Snooze" feature allows you to temporarily archive conversations until you want to follow up with them again. It's essential to having a clean inbox.

Analytics
The Analytics Dashboard helps you manage your chats and provides insights like your average first response time, average chats per day and how many contacts accept marketing messages.

Call-Outs
Capture customer attention with call-outs. These are quick messages that appear above your TextChat widget at a time interval that you decide.

After-Hours Texts
The After Hours feature allows you to change your instant reply based on your work hours. This helps set clear expectations for your customers, letting them know when they can expect a response.
"OUR CUSTOMERS LOVE TO TEXT."
"We were hesitant to offer texting at first because it felt like we were crossing a personal barrier, but it couldn't have gone better! Customers love to text simple questions and most of the questions are buying questions and lead to a purchase!"
Ginger P.
Co-Founder, GigiPip.com
The TextChat Widget VS Live Chat Widgets
TextChat shifts communication from a browser to a text message so that conversations last longer, sales go up and customers come back.

No more dropped chats
Traditional live chat leaves users shackled to their browser, growing more impatient by the second. TextChat lets visitors go on with their lives, transferring the chat from the browser to their phone.

Build a marketing list
Once the conversation is complete, take TextChat to the next level by using it as a marketing tool. Text messages have one of the highest ROI's of any marketing platform available!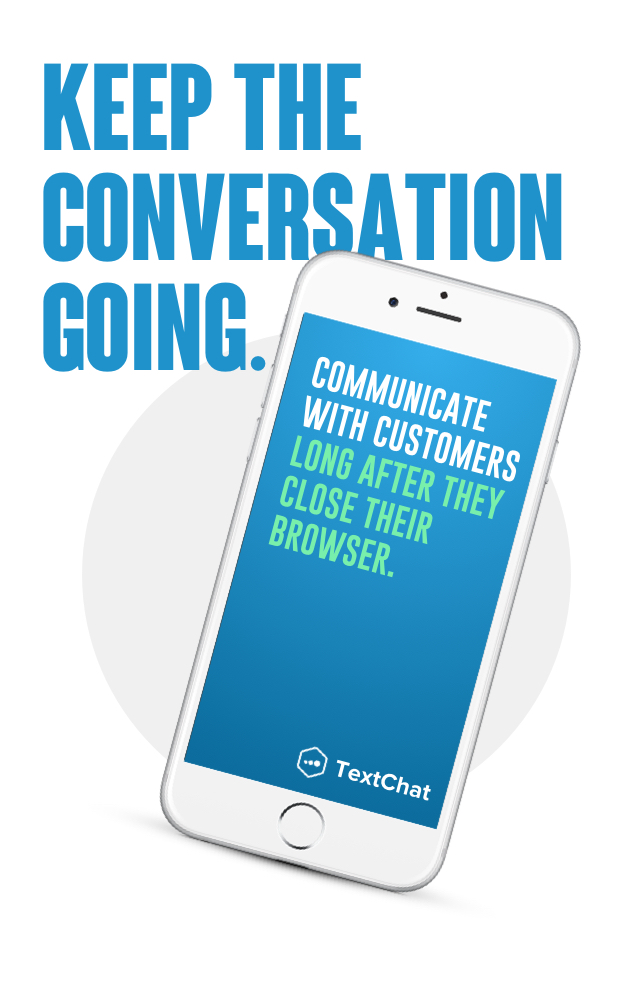 Cut the cord
Many small business owners can't sit by the computer, waiting for chats to come in. With TextChat, the power to respond moves with you as you help customers, stock shelves and ship orders.

Revenue goes up!
Website visitors that engage with live chat are worth 4.5X more than those that don't. Why would you want to let even one of them get away? Get potential customers the right answers in the right way and close more sales.
Frequently Asked Questions
Can I add TextChat to any website?
Yes, TextChat can be added to any website, as long as you have permissions to add the widget installation code into your header or footer. For more information on installation, check out this Help Desk article.
How does the free plan work?
You get unlimited access to TextChat and its full features free for 14 days. If you don't like it for any reason, you can cancel without paying a dime. We'll even let you export the contact data you collected and take it with you. Once your free trial is over, you will automatically be rolled into the Pro500 plan. You are welcome to change packages any time you'd like.
What is considered a chat?
A "chat" is a back-and-forth exchange between your business and one phone number. Multiple messages are allowed in a single chat; however, if a chat is completed and re-opened OR if a dialogue is resumed after multiple days of inactivity, an additional chat is counted.
Can I text contacts for marketing purposes?
Yes, but only if you have their consent. Receiving their phone number when someone submits a question does not in itself provide consent. Many companies set up an automated message that goes out after a conversation is resolved, asking the customer if they'd like to sign up for announcements and relevant promotions. Up to 80% of customers will agree!