CITYGRO IS NOW PATCH
After 12 years of helping businesses "Patch" their leaky customer buckets, CityGro is rebranding to Patch Retention, a full-service Customer Retention software designed to increase retention rates and maximize customer lifetime value. 
With this rebrand comes an elevated look, a completely redesigned management portal, along with brand new tools and features. These updates make Patch a one-stop shop for everything Customer Retention. 
Patch Features:
An All-New Management Portal – The Patch Management Portal follows a similar left-bar navigation as the previous portal but offers a completely new look and feel. It's been enhanced for performance using data queues to optimize loading times. The Home Page is heavily focused on core retention KPIs and visually distinguishes between your new and repeat customers, as well as those who are potential customers (leads) and those who have become lost.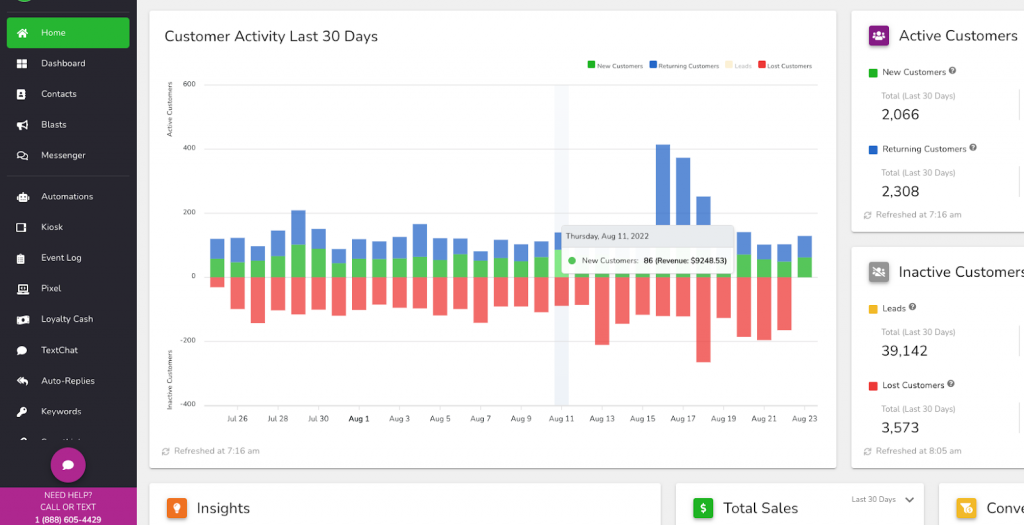 Enhanced Email and SMS Editor – SMS and Email is fundamental to any business's retention strategies. The Patch Portal features a brand new drag-n-drop email editor that allows you to make stunning emails without the need for digging into any code. A new concept called "Snippets" allows you to share sections of content across dozens of emails (think headers, footers, upsells, etc) and make changes universally that will update every instance the Snippet is being or going to be used… Additionally, Patch also offers MMS, better sending rates, and "smart" features that help you make every email or text feel personal.

Customer Segmentation via RFM Analysis (Recency, Frequency, and Monetary Values) – RFM Analysis gives every customer a rating based on their Recency, Frequency, and Monetary values. Customers are then segmented into buckets whereby you can create targeted campaigns based on their RFM Scores. 

RFM Buckets are as follows: 

New First-Time Customers

At Risk First-Time Customers

Lost First-Time Customers

Promising (Repeat) Customers

At-Risk Promising Customers

Lost Promising Customers

Loyal Customers

At-Risk Loyalists

Lost Loyalists

Champions
An all-new Loyalty & Rewards Widget – The Loyalty Widget is designed for eCommerce stores (currently only available with Shopify) and allows you to reward customers for joining your text and email lists, following you on social, and of course making more purchases. With fully customizable Ways to Earn, the possibilities are endless.

Enhanced TextChat – TextChat, the webs favorite chat widget, has been optimized with new features such as chat categories, snoozing, and admin management. As always, tie TextChat into Automations for automatic replies and actions. 

Refocused Dashboards – Patch Dashboards have been redesigned to give a visual representation of how your business's retention strategy is working. It's been split up by category to show Retention Dashboards, Marketing Dashboards, and Tools Dashboards independently.
Reviews and Referrals – Use your current customers to bring in new customers through Patch's Review and Referral features. These are automated messages that invite customers to review your business or provide incentives to customers who refer their friends.
Conversion Metrics – It's the metric we've all been waiting for… Conversions! Patch tracks Conversions from SMS, Email, Loyalty, Referrals, and Offers based on a 7-day purchasing window. Since Patch doesn't require cookies or browser tracking for attribution, attribution is clean and accurate, even with today's privacy updates. And with SMS and Email being on the same platform, conversions are never duplicated so your data is accurate.  

One-click Shopify Integration – If you have a store on Shopify, you can find Patch in the Shopify App Store and take advantage of our seamless integration. This integration will automatically feed your contact data into your Patch Portal so you can run automations based on shipping dates, purchases, products, abandoned carts, and a whole lot more!
Existing Accounts will be transitioned over to the new management portal over the next 6 months. If you have an interest in learning more about the new Patch features or want to talk about transitioning sooner, please contact Patch at success@patchretention.com.