54 Loyalty And Marketing Stats to Change Your Strategic Game Plan
Far too often, loyalty and marketing are thought of as two separate pages in the business strategy playbook. Marketing is the play to bring new customers in and loyalty is the play that brings old customers back. However, new marketing concepts are taking aim at boosting loyalty and results are showing that marketing to your current customers may be more fruitful than you know.
If loyalty marketing is not currently part of your strategy, here are some insightful statistics that might make you change your game plan:
Let's start with some customer retention statistics that will change your customer loyalty marketing strategy:
It costs FIVE TIMES more to acquire new customers than it does to keep current ones. [Forrester]
Reducing your customer defection rate by 5% can increase your profitability by 25% to 125%. [DestinationCRM]
According to Gartner Group, 80% of your company's future revenue will come from just 20% of your existing customers. [Gartner]
The probability of selling to an existing customer is 60–70%. The probability of selling to a new prospect is 5-20%; (that's up to 14 times more, or 5 on average). [Marketing Metrics]
Returning customers spend on average 67% more than first-time customers. [Bain]
A 5% increase in customer loyalty would increase the average profit per customer by 25-100%. [TheLoyaltyEffect]
Disloyalty stunts company growth by 25-50%. [TheLoyaltyEffect]
61% of SMBs report that more than half of their revenue comes from repeat customers, rather than new business. [BIAKelsey]
58% buy from the stores and brands whose loyalty programs they belong to at least once a month [DailyBreak Media]
Merchant sales reportedly increase anywhere from 15-50% as a result of communications. [SpotOn]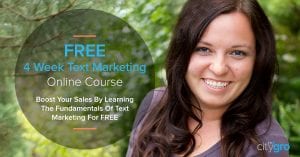 Want to learn how to text market like a boss? Sign up for our FREE online text marketing course. This course is completely online so you can go at your own pace. We value your privacy and will never sell or give away your information.
Next, let's consider customer retention statistics that reflect a loyal customer's ability to influence their friends:
These brand loyalty statistics will help you find an advantage over the competition:
And finally, let's look at some marketing statistics that help us determine our strategy:
Email marketing is deemed as the most effective digital tactic for building awareness, acquisition, retention, and conversion by 56% of digital marketers. [Gigaom]
48% of consumers say that the most critical time to gain their loyalty is when they make their first purchase. [Clickfox]
The three most important drivers of brand loyalty is (1) a great product, (2) brand recognition and (3) trust. [NewsCred]
72% of social media followers are more likely to make a future purchase. [Twitter]
Nearly 2/3 Americans switch brands due to price. [Nielsen]
63% of women and 53% of men say they will stay with a brand longer when earning rewards. [Cherry London]
Receiving rewards influences behavioral metrics across both sexes: 65% said it impacts frequency of purchase, 64% said it influences the amount they spend and 69% said that it influences brand trial [Cherry London]
57.4% of consumers join loyalty programs to save money, 37.5% to receive rewards. [TechnologyAdvice]
67% of customers said surprise gifts are very important for loyalty programs. [CrowdTwist]
69% of consumers say choice of retailer is influenced by where they can earn customer loyalty/rewards program points. [Maritz]
50% of consumers changed their behavior to reach a higher tier within a loyalty program [Colloquy]
Fees are the leading reasons consumers won't join loyalty programs. [Bond]
SMB that send loyalty members two to three communications per week see three times more customer visits than businesses that do not send any communications. [SpotOn]
Businesses that send more than 13 communications per month see reduced customer visits. [SpotOn]
Marketing campaigns that include a redeemable offer see open rates more than 20% higher than non-promotion emails. [SpotOn]
79% of U.S. consumers who've "Liked" a brand on Facebook did so in order to receive discounts or other incentives. [Nielsen]
Facebook fans visited the store 30% more than a typical customer per year. [Collective Bias]
73% of smartphone users are interested in interacting with their programs through their mobile device. [Maritz]
Nearly a third of consumers have subscribed to mobile marketing from brands, but 35% of them aren't getting relevant messaging. [Responsys]
Customers are 43% more likely to make a purchase when mobile offers are part of an orchestrated campaign that unfolds over time across multiple channels. [Responsys]
Mobile offers are redeemed 10x more frequently than print offers. [eMarketer]
The open rate of SMS messages is 98% compared with 22% for emails. [Venture Beat]
Loyalty Marketing Gives You The Most Bang for Your Buck
So what did we learn? Here are my two cents. While it's enticing to put all of your marketing efforts into obtaining new clients, these loyalty and marketing stats show that targeting your existing clients is the way to go. Not only can you significantly increase profits by bringing clients back more often, but they can be a great source of new customers as they bring their friends.
In addition, the statistics behind a communication based loyalty platform is overwhelming. Do all that you can to make sure there is a social aspect to your loyalty program. Don't let your customers go too long without communication and don't worry about over communicating. Most business error on the side of under-communication rather than sending far too much. In the end, a dollar from an old customer is just as green as a dollar from a new customer, but it will likely be less costly to get that old dollar in the door!