2 Sure Fire Ways to Start Digital Marketing for Restaurants
In this day and age, having access to customer information is a major key for business success. Capturing customers' info provides a way for you to reach out to and stay in contact with your customers. Here at CityGro, this is at the core of what we provide. This post is the first in a series that will go over some out-of-the-box strategies of how to capture your customers' info and set up digital marketing for restaurants.
Megan, one of CityGro's clients and the owner of Just Left Pub in Lynnwood Washington, said that she was in need of a way to capture customer info but didn't have the physical space to set up a kiosk near her customers. We were able to work with our graphic design team to come up with a couple of simple table tents and posters to help work around this.
As the customers come in to grab a drink or eat, they notice a table tent sitting on their table. This provides them with two different ways to opt into Just Left's rewards program:
Option 1 – Texting into the advertised SMS Keyword and, after opting in, clicking on the replied message containing a SmartLink (a shortened, trackable, URL) to a webform to complete their registration.
Option 2 – Writing their phone number at the top of their receipt. Their server then enters their phone number into the kiosk and the customer will receive a text message inviting them to opt into your business. Once they opt in, they receive a second message with a SmartLink. Now all they have to do is click on the link and fill out the webform they receive and they will be all set.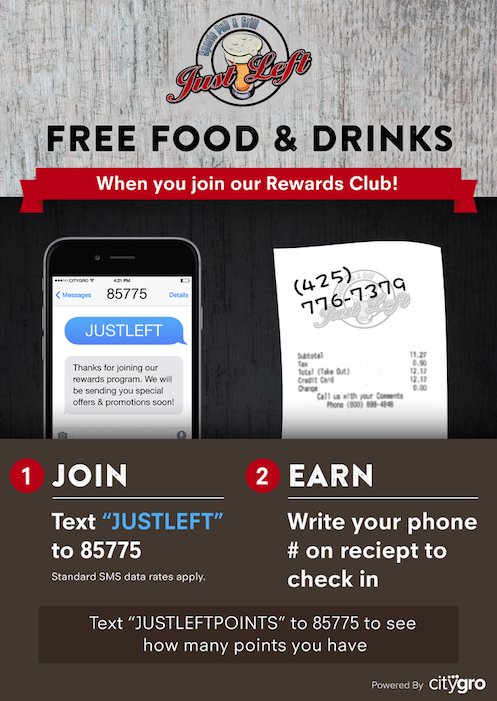 No matter what method they use to opt into the program, each time a customer visits Just Left Pub, they simply write their phone number at the top of the receipt and their server will check them in to the kiosk to earn loyalty points.
The customer will receive a text each time they earn a new reward, or they can text the SMS Keyword to see how many points they have and how close they are to their next reward!
To help demonstrate this, we have set up the keyword FULLSERVICE. If you text FULLSERVICE to 85775 from your smartphone, you will get a response that says:
"Be sure to write your mobile # on your receipt to earn FREE stuff! Click on this link to complete your registration http://c-g.co/3CwptsF"
Then, if you click on the link (if you're using a computer click the following link http://c-g.co/3CwptsF), you can see a sample of our customizable webform that we can put your business logo on. We can also customize what customer information is captured and what information is required.
This is just another example of an easy and efficient way to capture your customers' information with mobile data collection through text message marketing strategies (also known as SMS marketing) in fast-paced, full-service restaurants. With this information, CityGro helps you build a database to let customers know about daily specials or new menu items, drive traffic on slow days, and earn rewards!
For more information or to set up your business with our marketing kit (including table tents) contact your account pro today.