Managing communication at the intersection of busy businesses and busy customers
When your company's tagline is "Inspired by Women Who Wear Many Hats," you have to expect a degree of fluctuation and irregularity in your customers' behavior, schedule and habits.
Gigi Pip is a women's hat company based in Salt Lake City, Utah, and has been using CityGro's TextChat communication tool over the course of several months. CityGro asked them to share their thoughts and impressions in a live chat case study, and they graciously obliged.
While the company does operate one retail store in the downtown area, most business comes in online, and improving website conversion makes a massive impact.
A Live Chat Case Study With TextChat
We sat down with the brand's founder, Ginger Parrish, to learn more about the company and how TextChat has improved customer communication and sales.
"Our customers are busy women." – Ginger Parrish, Founder
"Their time is split working, raising children, being active and a ton of other things."
Recognizing and embracing their core customers' sporadic and multidimensional nature has become a core element of the Gigi Pip's brand and culture, but it can also make business tough.
Customer service, marketing, sales, product development — all of these are affected by busy customers, and staying on top of communication is key.
"If I'm being honest," Parrish added, "our side of things isn't perfect either. This isn't a big retail operation with a huge staff of sales and service agents, so it's usually just a handful of us working the shop, shipping orders, managing social media, responding to customers and changing light bulbs."
The hat-buying process is involved, and customers generally have a lot of questions, want recommendations and then often end up exchanging products once they see and try on the hat.
"It's been clear that it can make a huge difference in our orders and returns if we can have someone available when someone's first shopping online," Parrish said.
While the company has had email and phone support for its entire existence, these solutions weren't quite sufficient alone to deal with the complex dynamics of customers' lives and hat shopping.
Traditional live chat, Parrish told us, wasn't really a feasible option.
"We can't sit around at the computer waiting to respond to messages." – Ginger Parrish, Founder
In her opinion, it wasn't really reasonable or ideal to expect customers to do that either, as average online attention spans have plummeted in recent years.
With traditional live chat — using a web-anchored widget, there's a small window of time to catch and engage a potential customer before they lose patience and bounce.
And when they're gone, they're gone.
For a small company like Gigi Pip — or really for businesses of any size — that lost revenue adds up.
It's hard to pin down exactly how much money is lost due to poor chat response. Studies have demonstrated that there can be a huge upside to courting and facilitating live chat communication with an online business' customers.
One study found that visitors who engaged with a company's live chat were worth 4.5X more to the business than those that didn't.
Lose fewer of these customers, and it can have a really big impact on revenue.
"TextChat came around at just the right time for us," said Parrish. "It's quickly become indispensable."
While the company is still too small, and chats still too irregular, to hire a dedicated chat support agent, TextChat allows the few scrappy, multi-disciplined employees to pause momentarily while boxing orders or working with in-store customers and quickly respond to online inquiries, knowing that the response will reach the intended recipient.
Live Chat Case Study: The Results
And if we're going to do a live chat case study, we better share some of the results.
Review generation
Gigi Pip received Google Reviews 2.5X faster in the months following TextChat implementation than they did prior.
Text message marketing
In the weeks and months following implementation, Gigi Pip began to build a list of SMS subscribers. Whether manually added by employees or via the checkbox in the TextChat widget, these were all customers that had voluntarily expressed interest in joining Gigi Pip's marketing messages.
After just a couple of months, this number grew to over 500 subscribers.
To test the effectiveness of text message marketing for their audience, Ginger and her team sent out one quick message, announcing a weekend promo exclusive to this list.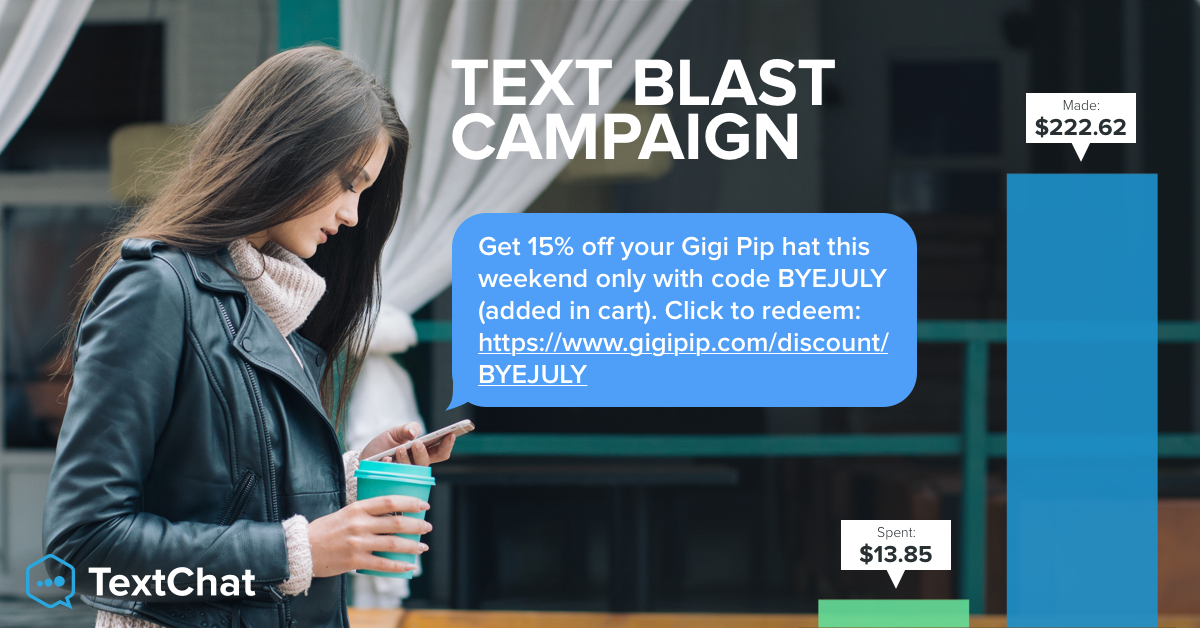 The message was pretty simple:
Get 15% off your Gigi Pip hat this weekend only with code BYEJULY (added in cart). Click to redeem: https://www.gigipip.com/discount/BYEJULY
Sent to the list of 554 customers they had built (again, in only a couple of months), this campaign brought in $222.62 in revenue.
That's a 17X ROI, and not uncommon with what CityGro customers see in their SMS marketing efforts.
"It's definitely been a game-changer." – Ginger Parrish, Founder
Tap/hover for more detail
TEXTCHAT APP
Gigi Pip employees can move about the store and warehouse, boxing up orders, helping customers and doing what needs doing. When messages come in, the app alerts them. The TextChat app offers access to other features like Quick Replies, Snooze and marketing opt-ins.
AUTO-REPLIES
Auto-Replies instantly field Gigi Pip's most commonly asked questions, reply after hours and during holidays.
SNOOZE
When a chat need follow-up, Gigi Pip employees snooze it for a few hours, or a few days, when they're reminded to reach out again.
REVIEW GENERATION
When a great chat is complete, Gigi Pip automatically sends out an invitation to rate them on popular review sites. They've received 2.5X the positive reviews, and many mention the helpful texting service.
SMS MARKETING
Gigi Pip has used TextChat as a channel to build their SMS marketing list, adding customers that want to be kept up-to-date on the latest promos and alerts. Initial campaigns show high returns on money spent through this channel.

Keep the Conversation Going
Free Plans Available
This live chat case study only gets you partway there. Start using TextChat to complete the process.
Most people can't sit and chat all day. TextChat shifts chats to text message so that conversations last longer, sales go up and customers come back.