Marketing Driven by Data: Data-Driven Marketing
Data-driven marketing: a term that has been colloquialized into one of the buzziest buzzwords that plagues whitepapers and LinkedIn feeds. Despite it's overuse in the marketing world, data-driven marketing is still a widely underutilized tool for measuring return on investment (ROI) and other key performance indicators (KPIs).
Let's take a step back and think about all the instances in our daily routines we use data to make a decision. For me, the odometer in my car measures fuel efficiency and travel time is a tool that shows how I'm spending a chunk of my time and money. I regularly watch the digital gauges on my dashboard to determine if I'm cruising around a little too much, or to determine the next time I'll need to stop and fuel up.
While I don't consider measuring the fuel economy of my car to be a major statistical effort, it is still a way I monitor regular actions and spend to determine performance and make necessary adjustments. Each time I fill up my gas tank, I want to be able to know my car will make it a specific amount of miles until having to return to the pump. Marketing spend should be no different — as long as businesses have the necessary applications in place to monitor performance, they should have a rough guess as to how much business it will deliver.
Businesses who use CityGro know, or will quickly recognize, that data is a core part of our strategy. The whole premise of our product is to bring customers back, which can be achieved through targeted messages and loyalty programs. Data, like visit frequency or customer behavior, can be implemented to help businesses utilize different habits to their advantage. Customer groups with different behavior types should not be treated equally, and knowing how to maximize spend among each group will be the equivalent of kicking a truck into Prius mode: super efficient.
Here are some ideas for how you can utilize data to make the most of CityGro's capabilities:
Drive loyalty beyond the Digital Punch Card
Customers will become familiar with your loyalty program and expect the rewards they get every X amount of visits. You can motivate them to come in even more often by setting an offer to go out two weeks and four weeks after they check in, incentivizing them to be a more regular customer. Look at the offer redemption rates to see how this tactic is performing, and consider creating customer segments to send more specific offers to different groups!
Drive foot traffic during slower hours
It's 5 o'clock somewhere, right? By looking at the sales numbers in your POS system, you'll be able to see when your traffic is a little slower. To make the most of these operating hours, create offers that are centered around these times. Major companies like Starbucks and Sonic have implemented happy hours, where certain items are discounted. You can even create specific SMS keywords around those offers to track how well they perform! Encourage customers to opt-in to campaigns that will notify them when time-specific offers are taking place.
Determine your network's average value
Here's a snapshot of a demo account. The value in the bottom right corner shows an estimate of what your network is worth, based on the number of annual visits and average amount each visit is worth. By calculating the value of your network, you can set goals to increase the number of subscribers you'll need to reach in order to hit overall revenue goals for your business. Bringing each of your customers back one more time per year would double your annual revenue, which is something I'm sure all businesses would appreciate.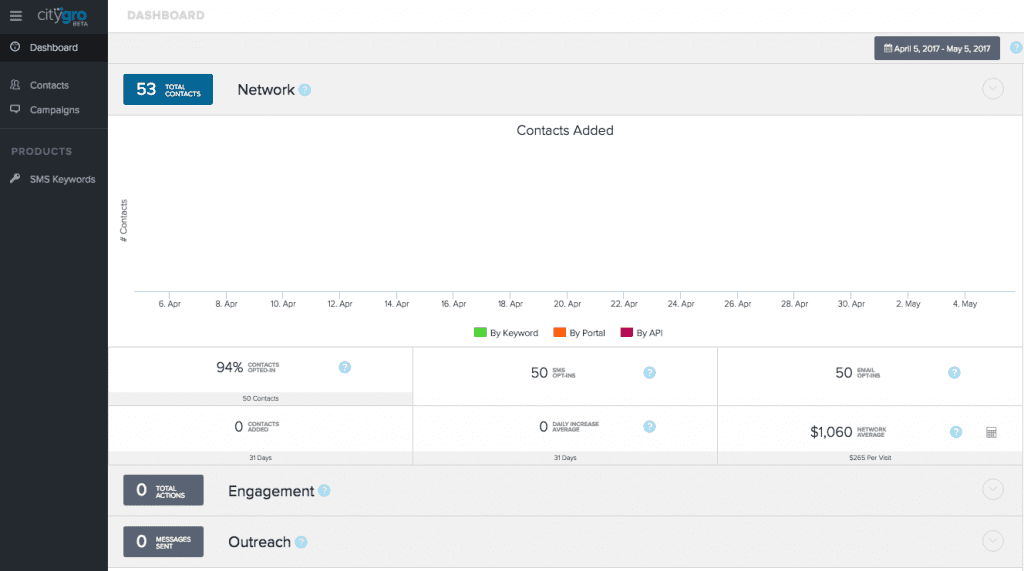 Moral of the story: data drives. Utilize yours to fuel a loyalty program that's efficient and aligned with overall business goals. If you want to learn how your business can use data — like the example shown above — to bring customers back, let's chat.