Text Message Marketing Statistics INFOGRAPHIC
Wondering how text message marketing compares to other forms of customer outreach? This handy infographic shows you the difference in open and response rates and more. Check it out: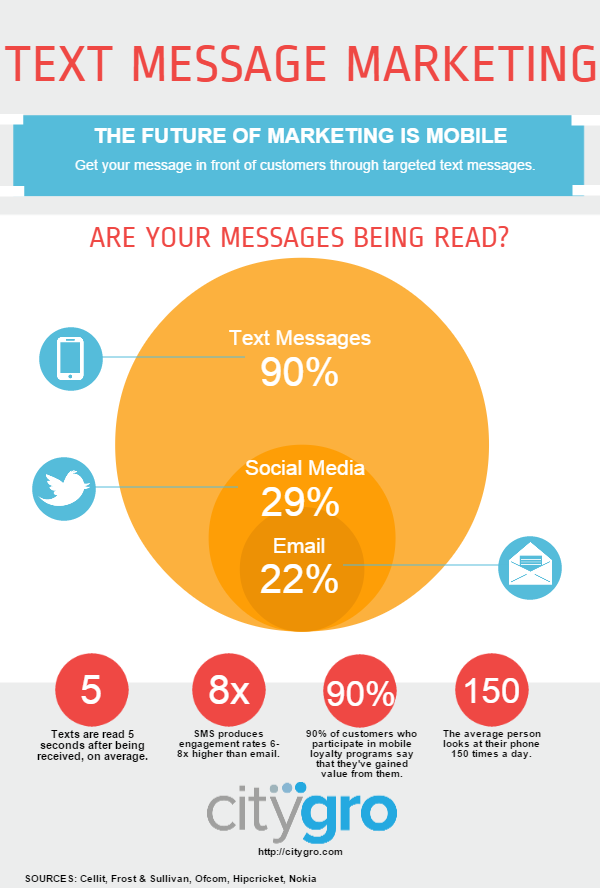 Did you know that customers look at their phone, on average, 150 times a day? Or that most people read texts within 5 seconds of receiving them?
It's no wonder, then that engagement with text message marketing is so high. In fact, according to recent studies, SMS produces engagement rates that are 6-8x higher than email marketing. Customers take their phones everywhere—when they get a text from you, it's easy to come in and use coupons or take advantage of promotions because it's right there on their phones. In fact, many customers like receiving mobile offers. Fully 90% of people who participate in mobile loyalty programs say that they've gained value from them.
CityGro's iPad kiosk combined with our targeted text message marketing software can help you get more customers opting-in to receive text messages from your business and can make the ones already participating happier. We believe that sending the right customers the right message at the right time can make a huge difference. We help you keep track of which customers are where in the purchasing path, so that you can send them customized offers and more.
What do you think? Are you seeing the results you want with text message marketing?
Would You Like to Learn More About Text Marketing?
Download our FREE guide to "Text Marketing Best Practices."
We value your privacy and will never give away or sell your information.