10 Creative Marketing Ideas That Drive Loyalty This April

Grab a whoopee cushion and hold on tight, April is here! It's time for jokes, bunnies that lay eggs, and some great spring weather to get customers out of their holes. Here are 10 creative marketing ideas that drive customer engagement and loyalty this April.
Knock, knock who's there? It's April Fools Day! Offer an incentive for any customer who shares their favorite knock-knock joke. If social media is a part of your strategy (and it should be), invite customers to share their jokes where others can laugh too. You could even have them write them on a "Joke Board" inside your store and keep it up all month!
Reconciliation Day— April 2nd. Time to dry up all those tears created from April Fool's Day. Make sure your customers know what products you have that can help them gain favor with their victims on this unofficial (but well needed) holiday.
April showers bring May flowers – As we transition to warm weather, make sure you let customers know about winter clothing blowouts, spring cleaning deals, and spring-time treats!
April 2nd through 4th—Easter Weekend. "Hop on in for Easter specials! Like a [Buy 1 get 1 free] all weekend long!"
Easter Egg Hunt – You're never too old for an easter egg hunt! Hide eggs with special treats, deals and maybe a gift card or two around the store and invite your customers to have some fun.
April 6th—NCAA Men's Basketball finals. Utilize one of the top viewed sporting events of the year to run a promotion. Name a flavor after each team and invite customers to take their pick! Tell them to keep their receipt and if their team wins, they win too!
April 6th through April 12th—The Masters. Golfers from around the world come together early in April to compete. If your customers are likely to engage in this event, make sure you are part of the conversation by offering customers a "hole in one" promotion. "If any player gets a hole in one at the Masters, YOU (the customer) get [insert offer here]!" ($1 meal, buy 1 get 1 free, $1 haircut, etc.) Hint: There have been 25 holes in one during 78 Master Tournaments.
April 20th—Patriot's Day (United States). Let's hear it for the red, white, and blue. As many people will take this day off, make sure you invite them to spend some of their free time with you!
April 27—Babe Ruth Day. Give it up for one of Baseball's finest by offering a Grand Slam offer, a triple (3 for 1), a double (2 for 1), or a home run. Can any sport provide more promotions than baseball?
Don't forget to celebrate April Birthdays! Here are a few of the more well known ones: Leonardo Da Vinci (April 15th), William Shakespeare (April 23rd), and Thomas Jefferson (April 13th).
Happy April everyone! We hope you use some of these marketing ideas that drive customers in your own businesses this month. The first 10 readers to submit their favorite joke will get 1,000 free SMS Marketing messages from CityGro. Click here to submit.
Team CityGro
888-605-4429
Download your FREE text marketing regulations cheat sheet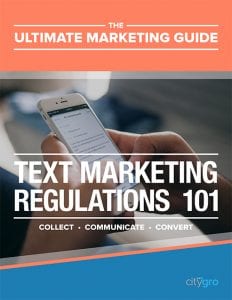 Did you know you can be fined between $500-$1,500 per non-compliant text? YIKES! Download your FREE cheat sheet to text marketing regulations to make sure all of your texts are compliant!