How Farr's Fresh Increased Their Sales 256% Using Text Marketing
What if I told you could make $9.57 per every $1 of advertising dollars spent? Chances are you would take that deal every time. That is exactly what Farr's Fresh did. On the 4th of July, we received this text from Farr Fresh's store manager Zak.
"Last year we had $600 in sales for the 4th of July. And the year before that was a little less. Yesterday morning I sent out 3805 texts and 800+ emails from your software and on a short business day, we ended at $1,537. With 78 redemptions in just text messages and 11 emails. We also saw a jump in our average sale by $2.50. In short, the text and emails more than doubled our sales! Good job CITYGRO"

Zak increased his sales by 256% by sending out a simple text and email to his customers. Better yet, he was able to increase his revenue by $937 in a single day while only spending about $97.93 in advertising costs. Amazingly, the whole campaign was created and sent out in less than a half hour. So, what was Zak's secret? Let's find out.
Marketing Ideas that Work
Step 1- Customer Data Collection
Farr's Fresh has been a customer of CityGro's for a several years now. Using CityGro's data collection tools they have been able to build their text and email lists to over 3,000 contacts. The first step to any successful marketing campaign is building a list of your customers' contact information. How did they convince their customers to give up their contact information? We interviewed Farr Fresh's store manager Zac.
Question 1: Zak, Why Did You Start Using CityGro?
"Connecting with our customers has been a long-time goal for us. When I was introduced to the CityGro kiosk, I saw the potential to get a lot more contacts in a way that looked modern and exciting, so we tried it out."
Question 2: Can You Explain Your Strategy with CityGro?
"We incentivize customers to join our loyalty program by giving them points each time they come in. Based on how long it has been since the customer has come in we've set up automated reminders to encourage them to come back. We also send updates on events and promotions about ever 2 weeks."
Question 3: How Do You Get So Much Participation?
"I personally credit our employees. Every customer that walks in is greeted with a smile and as they come up to pay for their ice cream they are asked if they would like to check-in for loyalty points. They almost always do."
So by having the right tools, in this case, a CityGro kiosk, and providing the right type of training to his cashiers, Zak was able to not only gather his customers' contact information but was also able to track their behavior by having them check-in with every purchase.
Step 2- Communicate with Your Customers
Here at CityGro, we have found that companies that communicate regularly with their customers see 2-3x's more revenue than companies that do not. Zak was able to use his CityGro text and email tools to regularly communicate with his customers.
As mentioned above, Farr's Fresh has an automated texting campaign that offers an incentive to their customers if they haven't seen them in a while. Luckily, the CityGro platform does the leg-work of tracking and sending out these messages. On top of the automation, sending out text and email blasts will drive up your sales as it did for this 4th of July example.
Question 4: What Kind of Messages Do You Send?
"Well, we're always looking for an excuse to connect. We'll send anything from promotions to holiday reminders, birthday incentives, and more. If we are trying to get rid of inventory, we'll send out a special on a specific item or flavor."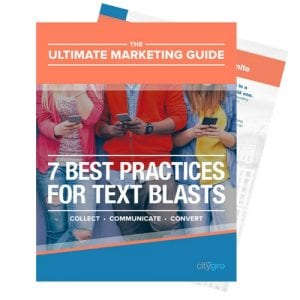 Enter your email below to download your FREE Text Blast – Best Practices 'Cheat Sheet'

If you are looking to start communicating with your customers, we have put together a list of text blast best practices. This texting cheat sheet is a great way to get started on your texting campaigns. Fill out the form below to receive your free copy. Don't worry, we value your privacy and will never sell or give away your information.
Step 3- Measure Your Results
As a marketer, I can tell you the best tip I can give you is track track track. For every advertising dollar, I spend, I always want to know exactly how much revenue I get. By keeping track of your ROI (Return On Investment) you can know what's working, what isn't working, and where you should concentrate your advertising dollar.
With your CityGro CRM your system can track all of this for you. It will not only track how much you are spending but your redemption rate as well. Zak has done an amazing job tracking his marketing messages. Through trial and error, he knows what types of messages will bring his customers back.
Question 5: Can You Talk About Your ROI with CityGro?
"Sure, we track everything from redemptions to loyalty check-in. Since we started CityGro we have gotten rid of the cost of punch cards, employees don't have to insert the phone numbers and emails from business cards we used to collect, and since we now have thousands of people in our network, we don't have to reach people through 3rd party advertising. It costs us a couple cents to contact a customer and even if it takes 10 messages to bring them back, it is extremely profitable."
How to Start Growing Your Revenue and Sales
In summary, the key to Zak's success was 3 steps. Collecting your customers' data, communicating regularly, and tracking your results. Having the proper tools is another key to your success. Before using CityGro's kiosks Zak had been actively trying to collect his customers' data without much success. He was able to add thousands of contacts to his list within the first couple of years of using a digital kiosk. Not only is it much more successful, but the entire process is automated saving you valuable man-hours.