October 2017 – Marketing Ideas for Small Business Owners
Trick or treat! October is full of fun ways to get in touch with your network — here's our top 10.
SPORTS, lots of them!

Support your local or favorite pro team on game day! Here are some important dates you'll need to know:

October 3 – Baseball Playoffs

October 4 – NHL season starts

October 20 – NBA season starts

COSTUME CONTEST: Get your customers involved by offering a month- or week-long incentive for wearing their costumes into the store! Bonus: take pictures and post them all over your social media!
October 31 – Halloween:

Happy Halloween! Make sure your customers know about any special holiday hours or promotions.

October 13 – Friday the 13th

: Avoid ladders, black cats and mirrors today! Or boost your customer's luck with some killer offers.

October 13 – Treat Yo Self Day: Leslie Knope is to thank for this day – remind your customers to treat themselves at your business!

October 14 – National Dessert Day:

Ice cream, cakes, cookies, oh my! Offer a special on your top-rated desserts!

Customer Service Week

: The first week of October is customer service week! Encourage social reviews by touting your team's excellent customer service.

October 6 – World Smile Day

: Message your customers encouraging them to flash their pearly whites your way! Or you could say, Thanks for making us smile! Come on in for a special surprise today.

October 9 – Columbus Day

: Promote an in-store trivia contest by saying, "Columbus sailed the ocean blue in… come on in and tell us the answer for 10% off your order today!"

October 28 – Make a Difference Day: Today is the day! You can make a difference! Consider donating a portion of all sales to a cause near and dear to your heart today. Need one? Rumor has it the American Red Cross is doing great things for hurricane relief.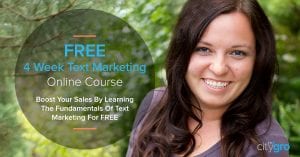 Would you like to learn how to text message market like a boss? This FREE online text marketing course will teach you the skills you need to bring customers back. It's 100% online so you can go at your own pace.
In this course you will learn:
How to build a text marketing network
How to set up automated text marketing campaigns
How to send out an effective text blast