Paper Loyalty Cards Are Dying. Don't Let Your Business Die Too!
How many paper "Buy 10 Get 1 Free" loyalty cards have you had in your lifetime? Probably quite a few right? I know this because paper loyalty cards have been an extremely effective way to drive business for a long time. Your customers get what they want, free stuff, and you get what you want, repeat customers. It's a win-win for everyone involved.
So why do I say they are dying when they have been so successful in the past? I recently read a pretty disturbing statistic, it said more Americans owned cell phones than toothbrushes. Gross, but very telling of the current climate in America. Everything is going digital. If it's not on your phone, it's probably not worth your time. Paper loyalty cards are dying simply because they are going digital. People just don't want to be bothered holding onto pieces of paper anymore.
Benefits of a Digital Loyalty Program
Remember when I said paper loyalty cards were a win-win for customers and business owners alike? Well, if paper loyalty cards were a win-win, digital loyalty cards are even more so.
Customer Benefits
We will start with customer benefits. The first is pretty obvious, they no longer have to keep track of those pesky paper punch cards. How many paper punch cards have you lost in your lifetime?
Next, your customers don't have to be in your store to join. For the first time, they can sign up with their phones wherever they are. With web forms and SMS keywords, your customers can sign up from a phone or computer.
Business Owners Benefits
Let's think about the paper loyalty cards journey. You print them, have your staff hand them out, and pray that your customers come back. You have no way of tracking each card and no way of encouraging your customers to use them when they aren't in your store. Oh, how times have changed.
With a digital loyalty program, you will gather your customers' valuable data. This opens up HUGE opportunities for you. Studies have shown that small and medium-sized businesses (SMB) that send loyalty members 2-3 communications per week see 3x's more customer visits than businesses that do not send any communications [Spot On.]
With your digital loyalty program, you can track how often your customers are coming in. Your system will automatically record every visit into your CRM giving extremely valuable insight on your customers. With this information, you can automate messages to be sent to your customers that you haven't seen in a while. This alone can dramatically change the traffic to your store.
You can say goodbye to slow days. Because your digital loyalty program is asking your customers for A) their cell phone numbers, and B) permission to text them with special deals and promotions, you have a direct path of communication between you and your most loyal customers. Having a slow day? Send out a buy one get one free text blast and watch as your store fills up.
Download Your FREE "Roadmap to a Digital Loyalty Program"
We value your privacy and will never give away or sell your information.
What Type of ROI Can I Expect with My Digital Loyalty Cards?
Because your system is actually tracking everything, it is easy to calculate the ROI you are getting with every message sent. But let's take a look at a real-life example. You can read the entire case study here, but in case you are in a time crunch, here's the reader's digest version.
One of our clients is Farr's Fresh, in case you don't have one of these in your town Farr's Fresh is a self-serve ice cream and frozen yogurt shop. We got the following text from Farr Fresh's manager Zak:
"Last year we had $600 in sales for the 4th of July. And the year before that was a little less. Yesterday morning I sent out 3805 texts and 800+ emails from your software and on a short business day, we ended at $1,537. With 78 redemptions in just text messages and 11 emails. We also saw a jump in our average sale by $2.50. In short, the text and emails more than doubled our sales! Good job CITYGRO"
Let's break this down. By sending out a text and email blast, Zak was able to increase his sales by $937.00 from the previous year. How much did this cost him? It cost Zac $0.025 per text and, $0.0035 per email. So, adding that up, Zak spent $97.93 and made $937 in one day with one campaign.
Try a Digital Loyalty Program FREE For 30 Days
If you would like to try a digital loyalty program in your store, you can FREE for 30 days. No credit card, no hassle. Just sign up below.
LET'S GET STARTED
Start by creating a free account.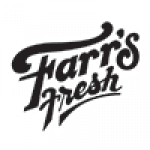 "Since we started using CityGro, we have gotten rid of the cost of punch cards, employees don't have to insert the phone numbers and emails from business cards we used to collect, and now that we have thousands of people in our network, we don't have to reach people through third-party advertising. It costs us a couple cents to contact a customer, and even if it takes 10 messages to bring them back, it is extremely profitable."
Zak Manning, Farr's Fresh